2019 Honda Accord: improved at every level
August 26 2019,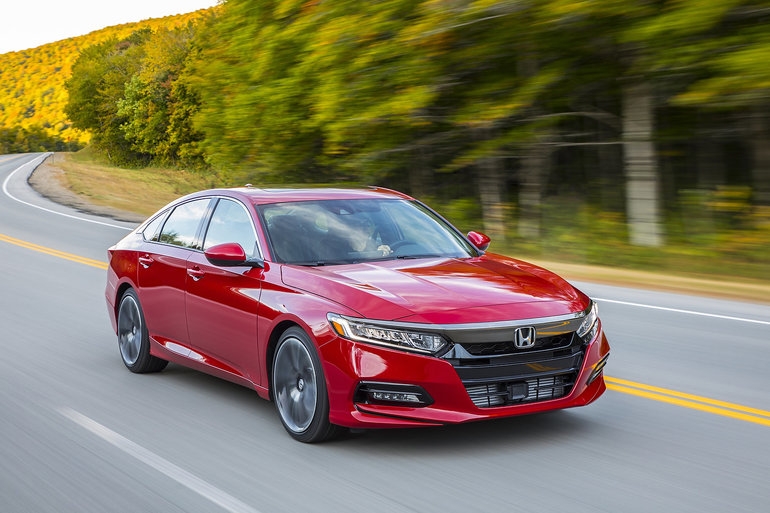 Redesigned a few years ago, the Honda Accord is back for the 2019 model-year with the same level of refinement, comfort, and performance that has dictated the Honda mid-sized sedan's popularity since the latest generation was unveiled. Powerful and fast, the Accord is also comfortable and refined with the luxury and premium features you expect to get in a high-end European luxury car, not necessarily a Japanese mid-size sedan. And yet, the 2019 Honda Accord delivers.
Two engines for the 2019 Honda Accord
Starting at just $ 28,190, the 2019 Honda Accord is available with a choice of two engines starting with a 1.5-liter turbo four-cylinder engine producing 192 horsepower and 192 lb-ft of torque. Yes, you read that correctly, for the first time in its history the Honda Accord is offered with a turbo engine.
The benefits of turbocharging are many, but they boil down to a substantial gain in power, better fuel economy, and torque that is delivered at lower RPM for better performance. As proof, the 2019 Accord's entry-level turbocharged four-cylinder engine has an average fuel consumption of only 7.9 liters per 100 kilometers in the city and 6.3 liters per 100 kilometers on the highway. For a car that offers nearly 200 horsepower, that's pretty impressive.
The other engine option is a 2.0-liter turbo four-cylinder engine producing 252 horsepower and 273 lb-ft of torque at only 1,500 rpm. A continuously variable automatic transmission is offered with the 1.5-liter engine while the 2.0-liter engine offers a more efficient and refined 10-speed automatic transmission. A six-speed manual transmission is also available.
These more powerful engines are paired with a structure that is stiffer by 29 % while the weight has decreased by 5 %. All this makes the new Accord much sportier and composed on the road while being more comfortable.
Standard safety on all 2019 Honda Accord models
In addition to structural and under-the-hood improvements, the new Accord features standard Honda Sensing on all versions. This set of driver assistance technologies not only warns the driver of potential accidents, but also prevents them.
Systems such as Adaptive Cruise Control, Lane Departure Warning and Prevention, Collision Warning and Automatic Braking monitor the surroundings and take action as soon as a potential danger is detected.
Contact us today at Excel Honda to learn more about the new 2019 Honda Accord!